BEHIND THE INSTRUCTOR'S DEFEAT: COMMUNITY NEGOTIATION POLITICAL NARRATIVE
Keywords:
Desa, Patronase, Local Strongman, Spirit Berdesa.
Abstract
This study examines the actors who won the Pilkades contest in Sudimoro Village, Srumbung District, Magelang Regency, Central Java. This research uses qualitative methods by collecting data through observation, documentation, and in-depth interviews with the winning candidates, BPD, the success team, and the community. The results showed that the victory of the actors in the Pilkades contest was motivated by several factors such as many breeds/families, good relations with the community, and support from community leaders and this is the tradition and life habits of the village people. In addition, the practice of money politics or local strongmen is interpreted as a form of negotiation from the community due to the absence of the government in providing public facilities that can be enjoyed by all levels of society.
References
Aspinal, Edward & Mada Sukmajati. 2015. Politik Uang di Indonesia: Patronase Klientelisme Pada Pemilu Legislatif 2014. Yogyakarta: PolGov
Erviantono, Tedi. 2017. Bahaya Politik, Uang dan Pilkada. Jurnal Transformative, Vol 3 No 2, September.
Firdaus, Mohamad (2020). Menghidupkan Kembali Spirit Politik Ilmu Pemerintahan. Jurnal Ilmu pemerintahan Semesta (Governabilitas) Volume 1 Nomor 2 Desember, STPMD "APMD" Yogyakarta.
Firmanzah. (2012). Marketing Politik: Antara Pemahaman dan Realitas. Jakarta: Yayasan Pustaka Obor Indonesia.
Fitriyah. 2015. Cara Kerja Politik Uang. Jurnal Politika, Vol 6 No 2, Oktober: 101-111.
Handoko, Tito, Ramlan Darmansyah, dan Syofian. 2020. Fenomena Local Strongman (Studi Kasus Pengaruh Sukarmis Dalam Mendukung Kemenangan Andi Putra Sebagai Dewan Perwakilan Rakyat Daerah Kuantan Singing. Jurnal Moderat, Vol 6 No 3, Agustus.
Nurcholis, Ahmad. (2016). "Orang Kuat Dalam Dinamika Politik Lokal Studi Kasus: Kekuasan Politik Fuad Amin di Bangkalan". Skripsi. Ilmu Sosial dan Ilmu Politik, Universitas Islam Negeri Syarif Hidayatullah, Jakarta.
Sugiyono. (2017). Metode Penelitian Kualitatif: untuk penelitian yang bersifat: eksploratif, enterpretif, interaktif dan konstruktif. Bandung: ALAFABETA.
Tjahjoko, Guno Tri. (2016). Politik Ambivalensi: Nalar Elit di Balik Pemenangan Pilkada. Yogyakarta: PolGov.
Undang-Undang Nomor 6 Tahun 2014 Tentang Desa.
Yunanto, Sutoro Eko & Tjahjoko, Guno Tri. (2020). Menyingkap Kabut Tebal Kedaulatan. Jurnal Ilmu pemerintahan Semesta (Governabilitas) Volume 1 Nomor 2 Desember, STPMD "APMD" Yogyakarta.
Wawancara Muh Rofie 21 September 2020
Wawancara dengan Heri Purnomo, 01 Oktober 2020
Wawancara dengan Herman, 20 Oktober 2020
Wawancara dengan Ponijo, 07 Januari 2021
Wawancara dengan Sastro Widodo, 07 Januari 2021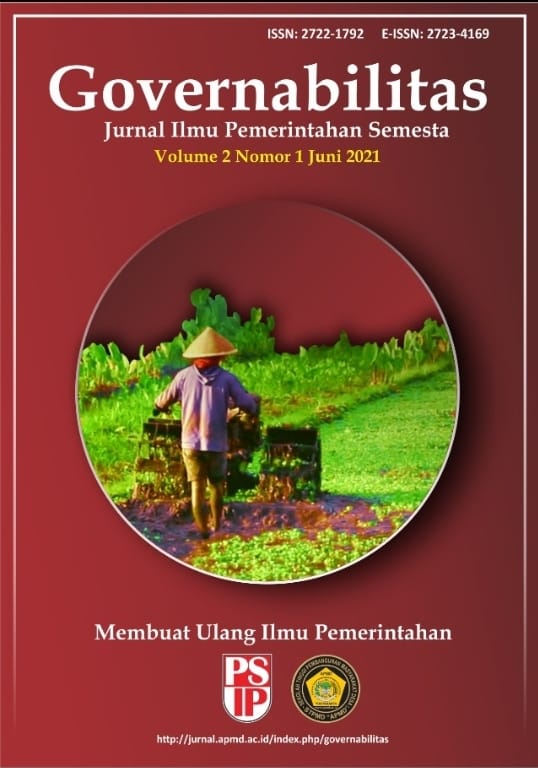 Downloads
License
Copyright (c) 2021 GOVERNABILITAS (Jurnal Ilmu Pemerintahan Semesta)
This work is licensed under a Creative Commons Attribution-NonCommercial-NoDerivatives 4.0 International License.