ILMU PEMERINTAHAN: ANTI PADA POLITIK, LUPA PADA HUKUM, DAN ENGGAN PADAADMINISTRASI
Keywords:
Governmental Science, government, politics, law, administration.
Abstract
Governmental Science (GS) is unique to Indonesia, which is unknown in the rest of the world. But GS
always gets an external stimulus: colonialism, developmentalism, and neoliberalism. The founders created
GS for axiological-practical reasons, without being accompanied by adequateontology and epistemology.
Ontologically, the concept of government is an Anglo-Saxon tradition, but government is taken from
Continental European legal traditions and bestuurskunde colonial heritage, which in the origin country
is called administration. GS succeeded in producing many bureaucrats, but it did not carry the spirit of
"people's government†and was unable to enlighten the practice of the Indonesian government, but only
participated in maintaining the law and orders inherited from colonial beamtenstaat. Developmentalism and
state administration came to color the New Order, as well as to form an GS figure. The decade of the 1990s
Political Science came to subvert GS, which was able to ignite the color of law, but did not reconstruct
GS. In the reform era, political studies are farther away from government, and GS follows the tradition
of neoliberalism, understanding government as public management and governance. Today, GS is anti-
politics, forget the law, and are reluctant about administration. GS experienced a crisis of identity, which
was unable to distinguish between Public Administration and GS. The epistemological crisis also occurred,
namely the claim of GS as a scientific discipline not accompanied by the use of government as a subject
and perspective to understand and explain social phenomena.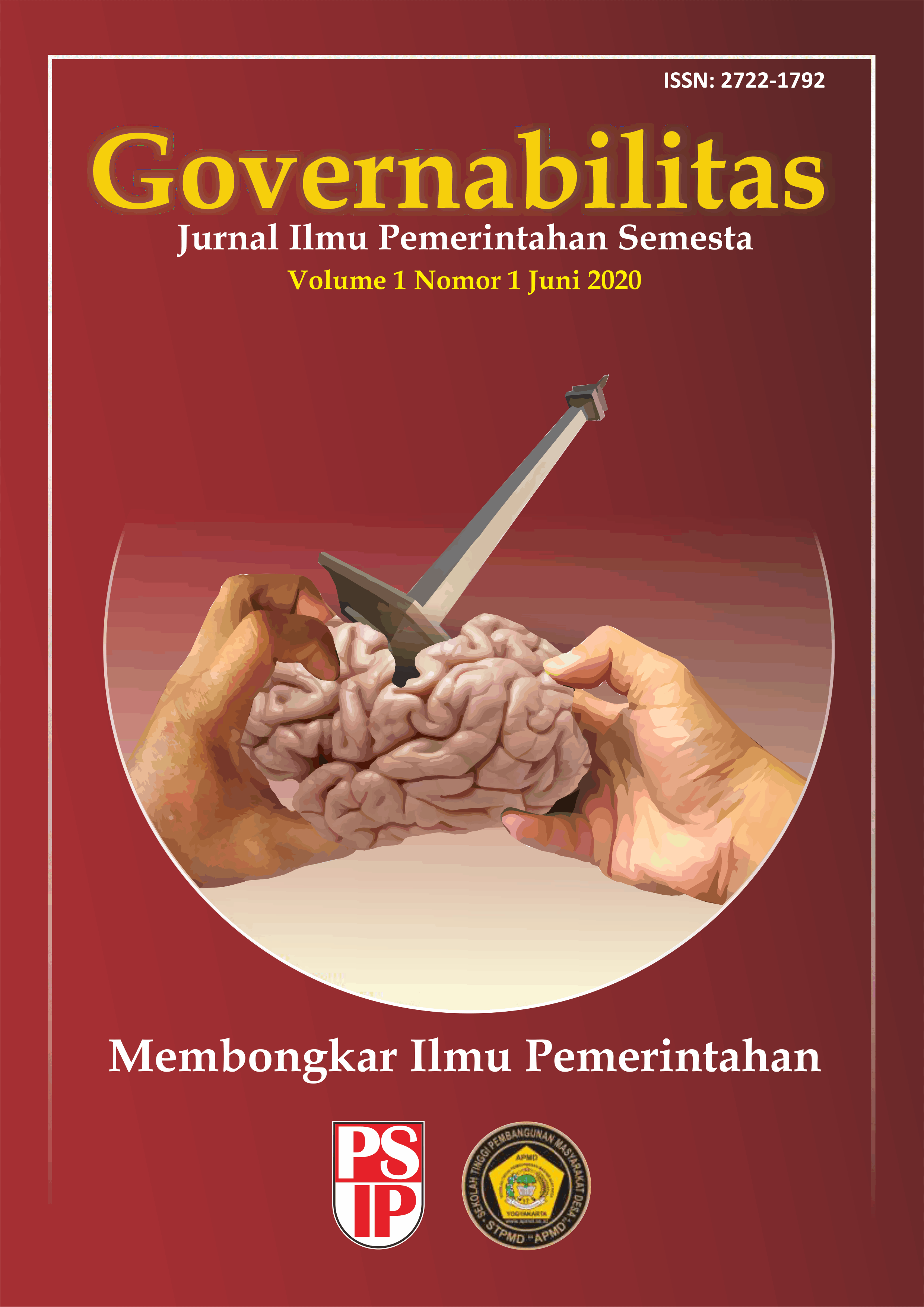 Downloads
License
Copyright (c) 2020 Governabilitas
This work is licensed under a Creative Commons Attribution-NonCommercial-NoDerivatives 4.0 International License.