Decolonization and Indegenization of Government Science
Keywords:
decolonization, indegenousization, government science, scientific wisdom
Abstract
The post-colonialism syndrome is very difficult to remove in developing countries. Almost all areas of life are still connected with colonialization practices, including the development of science. The development of modernity and globalization in the third world has increasingly marginalized lokal social science theories. The development of science is not sufficient to explain the direction of global development and answer lokal problems, academically and practically. As in the use of the concept of government science from the perspective of bestuurskunde, American politics, and good governance is such formula of western civilization, which is transmitted in the form of academic colonialism. The existence of government science academically and practically is important to transform lokal wisdom models into new perspectives. Scientific wisdom as a source of inspiration for government science academically and practically must be decolonialization and indigenization in answering governance problems. The research method is descriptive qualitative with a decolonialization approach. Data processing techniques through pragmatic dialectics, by formulating new scientific syntheses. The results of this study emphasize that the science of government as knowledge of liberation must be transformed from a spirit of liberation (decolonialization) to a scientific discourse typical of Indonesian lokal wisdom (indigenization). Indonesian lokal wisdoms such as the concept of Wanua in Soppeng, South Sulawesi, and the Civil Service of the Javanese Bureaucracy, Bugis-Makassar Political Culture, to the policy model of the Islamic Mataram Kingdom are the scientific manifestations of Indonesian government as a treasure trove of scientific wisdom. The strategy of decolonialization and indigenization of government science is needed to explain governance problems that cannot be explained by other scholars. Because the science of government is not just to improve the skills of government officials or to inspire government service practices, but also to build political and bureaucratic traditions based on their social reality.
References
Abdillah, D., N. A., Yuningsih, N. Y., & Fatmawati. 2020. The Position of Auxiliary Organ in Government System of West Java Provincial Government. Journal of Contemporary Governance and Public Policy, 1(2), 67–81. https://doi.org/https://doi.org/10.46507/jcgpp.v1i2.11
Abdullah, T. 1984. Ilmu Sosial dan Realitas Indonesia dalam Prisma, 9 tahun 1984. LP3ES.
Agustinova, D. E. 2017. Meneguhkan ilmu sosial keindonesiaan: Indegeneousisasi Ilmu Sejarah. FIS-UNY.
Alatas, S. F. 2010. Diskursus Alternatif dalam Ilmu Sosial Asia. Mizan Publika.
Amalinda Savirani. 2003. Ilmu Pemerintahan Masa Depan: Mengadvokasi politik pinggiran. 1(1), 62–76.
Apter, D. 1965. Comparative Politics. The Free Press.
Ashcroft, B., Griffiths, G., & Tiffin, H. 2007. POST-COLONIAL STUDIES; The Key Concepts Second edition. Routledge.
Creswell, J. W. 2012. METODE PENELITIAN KUALITATIF (pp. 1–678). Pustaka Pelajar.
Cynthia, M., & Bautista, R. B. 1997. Filipina: Refleksi tentang Perkembangan Ilmu Sosialâ€, dalam Nico Schutle N dan Leontine Visser, Ilmu Sosial Di Asia Tenggara: Dari Partikularisme ke Universalisme. LP3ES.
Denhardt, R. B., & Denhardt, J. V. 2003. The new public service: Serving rather than steering. In Public Administration Review. M.E. Shape. https://doi.org/10.1111/0033-3352.00117
Djati, W. R. 2013. Revivalisme Kekuatan Familisme dalam Demokrasi: Dinasti Politik di Aras Lokal. Jurnal Sosiologi Masyarakat, 18, 203–231. https://doi.org/https://doi/org/10.7454/mjs.v18i2.3726
Eko, S. 2003. Ilmu Pemerintahan transformatif. 1(September), 78–81.
Foucault, M. 2011. The Government of Self and Others, Palgrave Macmillan. In Foucault Studies. Palgrave Macmillan. https://doi.org/10.22439/fs.v0i10.3127
Haboddin, M., Sulaksono, T., Yanuardi, Bayo, L. N., Mubarak, A. H., & Priyahita, W. 2016. Metodologi Ilmu Pemerintahan. (M. Haboddin (ed.)). Pusat Kajian Inovasi Pemerintahan dan Kerjasama AntarDaerah.
Harun, M. Y. 1994. Kerajaan Islam Nusantara Abad XVI & VII. Kunia Kalam Sejahtera.
Hastuti. 2017. "Merajut Ilmu Sosial Keindonesiaan Melalui Penelitian Kearifan Lokal†di dalam "meneguhkan ilmu sosial keindonesiaan.†FIS-UNY.
Iver, M. 1947. The Web of Government. In Thought. Macmillan Co. https://doi.org/10.5840/thought1947223148
Kila, S., Sahajuddin, & Amir, M. 2018. Soppeng: dari Tomanurung hingga Penjajahan Belanda. In Physica (Vol. 25). Pustaka Refleksi.
KuntjoroJakti, D. 1984. Cendekiawan Dunia Ketiga: Orang "Barat†di Dunia "Timurâ€, dalam Aswab Mahasin dan Ismed Natsir (Peny.), Cendekiwan dan Politik Sosial. LP3ES.
Labolo, M. 2013. Memahami Ilmu Pemerintahan: Suatu Kajian, Teori, Konsep, dan Pengembangannya. In Ilmu Pemerintahan. Pajagrafiindo Persada.
Langill, S., & Landon, S. 1998. Indigenous Knowledge. IDRC-Lib. https://doi.org/10.4324/9781315612744
Poelje, V. G. A. 1953. Pengantar Umum Ilmu Pemerintahan. In Terj. Djakarta: NV Soeroengan 58.
Prianto, A. L. 2011. Good governance dan formasi kebijakan publik neo-liberal. 1(1), 1–10.
Prianto, A. L. 2014. Model of Advocacy Coalitions in the Formulation of Spatial Plan Policy of Makassar in 2010-2030. Bisnis & Birokrasi Journal, 20(3). https://doi.org/10.20476/jbb.v20i3.3205
Prianto, A. L., & Amalia, A. A. 2019. Combatting Slums, Suistaining Poverty: Dynamic Urban Governance in Makassar, Indonesia. Otoritas : Jurnal Ilmu Pemerintahan, 9(1), 28–41. https://doi.org/10.26618/ojip.v9i1.2008
Santoso, H., & Santoso, L. 2003. Filsafat Ilmu Sosial, Ikhtiar Awal Pribumisasi Ilmu Sosial di Indonesia. Gama Media.
Santoso, P. 2012. Ilmu Sosial Transformatif. Millah, XI(2 Februari 2012), 608–632. https://doi.org/10.20885/millah.volxi.iss2.art13
Setiawan, B. 2017. "Merdeka dari Ilmu Sosial†di dalam "meneguhkan ilmu sosial keindonesiaan". FIS-UNY.
Smith, L. T. 2005. Dekolonisasi Metodologi. In e-conversion - Proposal for a Cluster of Excellence (pp. 1–9). Insist Press.
Soedjatmoko. 1980. "Dimensi-Dimensi Struktural Kemiskinanâ€, dalam Alfian dkk (Ed.). "Kemiskinan Struktural Suatu Bunga Rampai.†Yayasan Ilmu Ilmu Sosial.
Sudrajat, A., & Nasiwan. 2017. "Tapak-Tapak Kecil Indigenisasi Ilmu-Ilmu Sosial: Pengalaman Membangun Diskursus Alternatif di Fakultas Ilmu Sosial†di dalam "meneguhkan ilmu sosial keindonesiaan". FIS-UNY.
Supriatman, M. T. 2003. Ilmu Pemerintahan: Menciptakan Bestuur atau Political Scientist? 1(1, september), 82–85.
Sutherland, H. 1979. The Making of Bureaucratic Elite: The Colonial Transformation of the Javanese Priyayi. Heineman Educational Books (Asian Studies Association of Australia).
Syariati, A. 1996. Tugas Cendikiawan Muskim. Srigunting.
Usman, S. 2004. Sosiologi: Sejarah, Teori, dan Metodologi. Cired.
Wilson, W. 1903. The State. Harper & brothers.
Yani, A. A. 2007. Budaya Politik Orang Bugis dalam Dinamika Politik Lokal. Jurnal Masyarakat Dan Budaya, 9(2), 105–122.
Yunanto, S. E. 2020. Ilmu Pemerintahan: Anti Pada Politik, Lupa Pada Hukum, dan Enggan Pada Administrasi. Governabilitas, 1(1), 1–23. https://doi.org/10.1155/2010/706872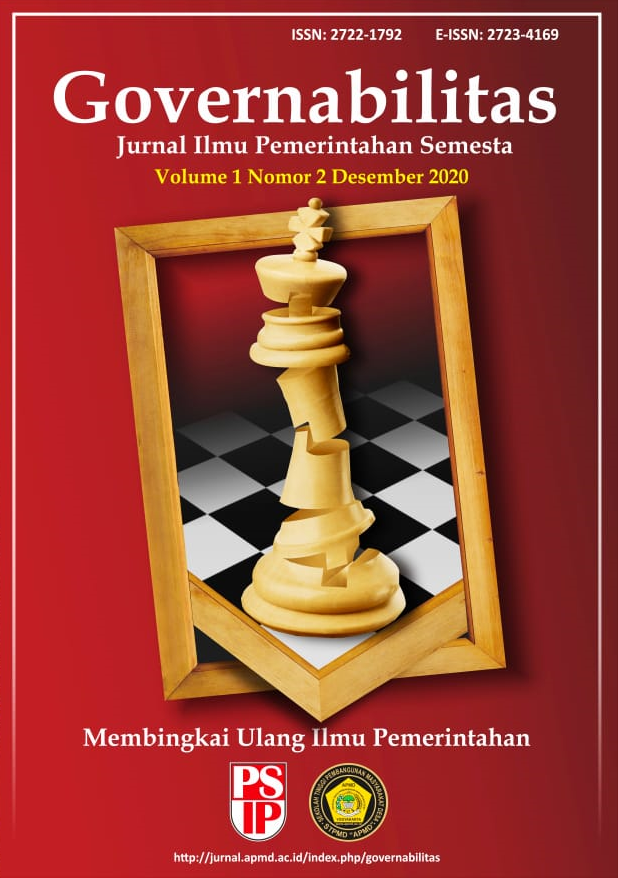 Downloads