BUREAUCRACY REFORM PANGGUNGHARJO VILLAGE
Keywords:
Bureaucratic Reform; , Village Government; , Panggungharjo.
Abstract
Bureaucracy has an important role in running the government at all levels of government. However, the quality of the bureaucracy, especially in village government, is generally still poor. Based on these conditions, this study examines the efforts made by the Panggungharjo Village Government, Sewon District, Bantul Regency under the leadership of Wahyudi Anggoro Hadi as the village head in carrying out Bureaucratic Reform. Data collection techniques using observation, interviews, literature study and documentation. The data analysis method of this research is descriptive qualitative analysis. The results show that the Bureaucratic Reform in Panggungharjo Village aims to restore the trust of the people of Panggunghajo Village to the Panggungharjo Village Government considering the bureaucracy that seems slow, corrupt and biased by elite interests. To realize the Bureaucratic Reform, various efforts were carried out, namely exemplary, expanding public services in order to change the relationship between the village government and the community, Public Administration Services through One-Stop Services, building a new culture of bureaucracy by providing rewards and punishments, the openness of public information and increasing quality of Human Resources (HR) of village officials. Bureaucratic reform has implications for improving the performance of the Panggungharjo Village Government so that the Panggungharjo Village Government has received many awards both from within and outside the country.
References
Albrow, Martin, 1989. Birokrasi. PT. Tiara Wacana, Yogyakarta.
Azhari. 2011. Mereformasi Birokrasi Publik Indonesia: Studi Perbandingan Intervensi Pejabat Politik Terhadap Pejabat Birokrasi Di Indonesia Dan Malaysia. Pustaka Belajar Offset, Yogyakarta.
Haning, Mohamad Thahir. 2015. Reformasi Birokrasi: Desain Organisasi Yang Mendukung Pelayanan Publik Di Indonesia. Ilmu Giri, Yogyakarta.
Hasyim, Djamil. 2016. Peranan Kepemimpinan Dalam Meningkatkan Kualitas Pelayanan Publik Pada Kampung Paray Distrik Biak Kota Kabupaten Biak Numfor. Jurnal "Gema Kampus" Ilmu Administrasi Edisi Vol. XI
Kusmayadi, Edi dan Taufik Nurohman. 2011. Reformasi Birokrasi di Tingkat Desa (Studi Komparasi Pelaksanaan Reformasi Birokrasi dan Pelayanan Publik di Desa Sukakerta dan Desa Setiawangi Kecamatan Jatiwaras Kabupaten Tasikmalaya). Jurnal Aliansi Vol. 3 No. 2.
Mustafa, Delly, 2014. Birokrasi Pemerintahan: Edisi Revisi. Alfabeta, Bandung.
Pamungkas, W.S.B., Wibowo A.A.S, Yuniati, A. Reformasi Birokrasi Pada Administrasi Publik. Jurnal STIAMI. Vol. 2, No.1
Saefulrahman, Iyep. 2015. Kepemimpinan, Modal Sosial, Dan Pembangunan Desa (Kasus Keberhasilan Pembangunan Di Desa Pangauban Kecamatan Cisurupan Kabupaten Garut). Jurnal CosmoGov. Vol.1 No.1.
Sedarmayanti. 2013. Reformasi Administrasi Publik, Reformasi Birokrasi dan Kepemimpinan Masa Depan: Mewujudkan Pelayanan Prima dan Kepemerintahan Yang Baik. PT. Refika Aditama, Bandung.
Sinambela, Lijan Poltak, 2016. Reformasi Pelayanan Publik: Teori, Kebijakan, dan Implementasi. PT. Bumi Aksara, Jakarta.
Soemitro, Ronny Hanitijo. 1998. Metodologi Penelitian Hukum, Metode dan Jurimetri. Ghalia Indonesia, Jakarta.
Suryani, Dewi Amanatun. 2019. Peran Pemerintah Desa Panggungharjo Bantul dalam Mewujudkan Good Governance melalui Pengembangan Sistem Informasi Desa. Journal of Public Administration and Local Governance. Vol.3 (1)
Wuryantono, Theodorus dan Ruswahyuningsih. 2019. Masyarakat Berdesa: Realita atau Utopia ? Penelitian Evaluasi Tentang Partisipasi Masyarakat Desa Pasca Implementasi Undang-Undang Desa. STPMD APMD Repository
Website
Novidwyanto, Kelik. Wahyudi Anggoro Hadi, Pemimpin Muda yang Lahir dari Desa. https://www.brilio.net/creator/wahyudi-anggoro-hadi-pemimpin-muda-yang-lahir-dari-desa-b27349.html. Diakses pada tanggal 3 September 2021.
https://www.panggungharjo.desa.id/prestasi/ diakses pada tanggal 29 April 2021 pukul 19.37
https://www.panggungharjo.desa.id/BUM Desa/ diakses pada tanggal 29 Agustus 2021 pukul 09.24
Peraturan Perundang-undangan
Republik Indonesia. 2014. Undang-Undang Nomor 6 Tahun 2014 tentang Desa. Lembaran Negara Republik Indonesia Tahun 2014 Nomor 7.
Pemerintah Desa Panggungharjo. Peraturan Desa Nomor 01 Tahun 2016 tentang Pemberian Tambahan Penghasilan Aparatur Pemerintah Desa. Lembaran Desa Panggungharjo Tahun 2016 Nomor 1.
Pemerintah Kalurahan Panggungharjo. Peraturan Desa Nomor 4 Tahun 2021 tentang Tunjangan Kinerja Bagi Lurah, Pamong Kalurahan, Staf Kalurahan dan Badan Permusyawaratan Kalurahan Panggungharjo, Kapanewon Sewon, Kabupaten Bantul. Lembaran Kalurahan Panggungharjo Tahun 2021 Nomor 4.
Wawancara
Wawancara dengan Perangkat Desa Panggungharjo, M. Ali Yahya, SH, 27 Juli 2021
Wawancara dengan Perangkat Desa Panggungharjo, Sunardiyono, S.Pd, 28 Juli 2021
Wawancara dengan warga Desa Panggungharjo, Catur Hermawan, 28 Juli 2021
Wawancara dengan warga Desa Panggungharjo, Agus Budi Santoso, 28 Juli 2021
Wawancara dengan warga Desa Panggungharjo, Sajuri, 30 Juli 2021
Wawancara dengan BPD Desa Panggungharjo, Ari Suryanto, 30 Juli 2021
Wawancara dengan Kepala Desa Panggungharjo, Wahyudi Anggoro Hadi, S.Farm, Apt., 14 Agustus 2021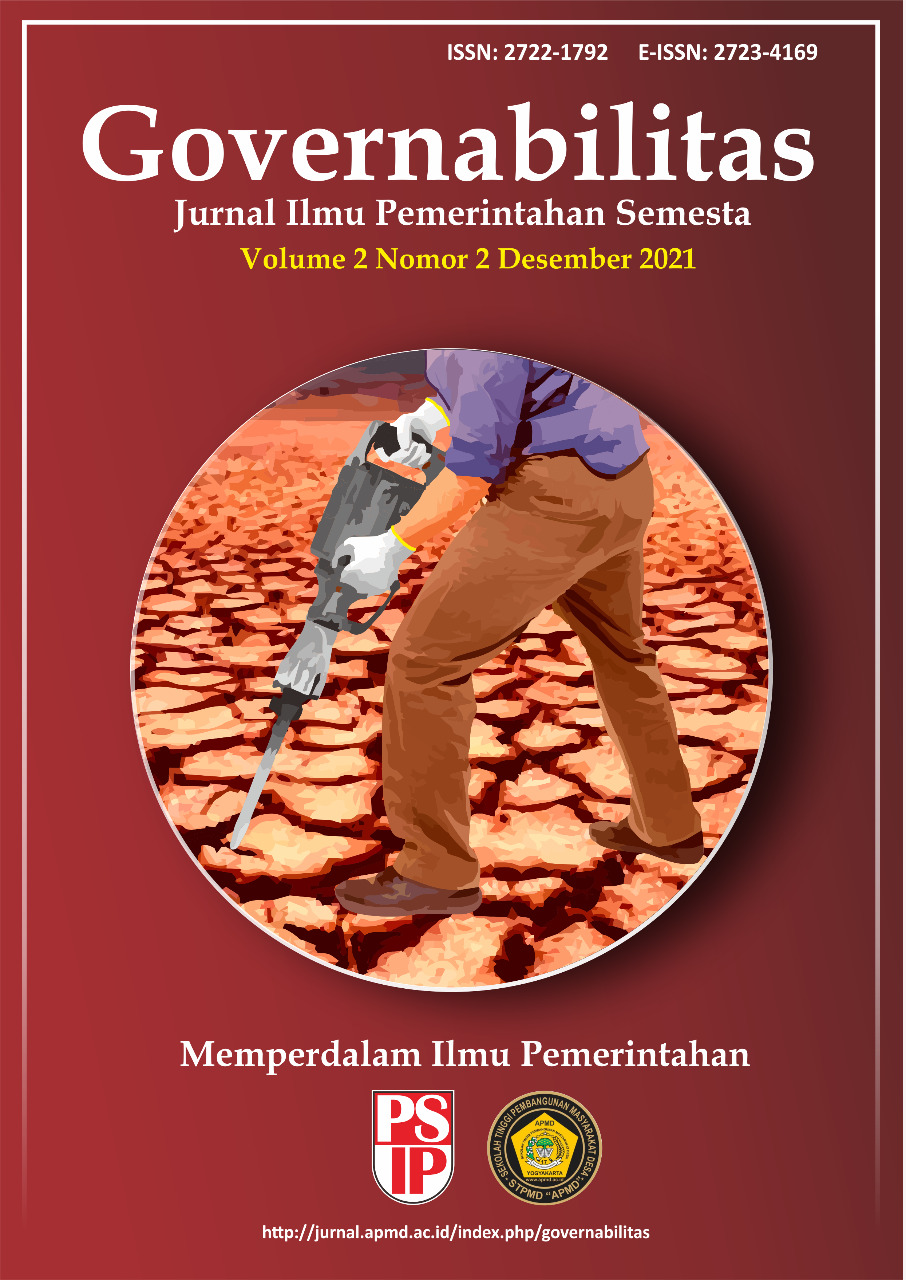 Downloads
License
Copyright (c) 2021 GOVERNABILITAS (Jurnal Ilmu Pemerintahan Semesta)
This work is licensed under a Creative Commons Attribution-ShareAlike 4.0 International License.