KEPEMIMPINAN MILLENIAL DAN DAMPAKNYA TERHADAP TRANSFORMASI SOSIAL DESA
(Analisis Strukturasi Kemunculan Kepemimpinan Milenial di Kalurahan Guwosari, Kapanewon Pajangan, Kabupaten Bantul)
Keywords:
millennial leadership;, institutionalization;, village social transformation
Abstract
This research examines millennial leadership and its impact on village social transformation. This research departs from the phenomenon of many youths returning to the village to seize political leadership in the village. This phenomenon is commonly found in the Special Region of Yogyakarta, but not many have researched it. Previous studies looked at the phenomenon go-politics, usually in political parties, social movements, and business organizations, but this study looks at go-politics youth in the village realm. In particular, the research aims to explore what factors shape the structural conditions for the birth of millennial leadership for social transformation. This research is a qualitative type with the method used is an exploratory study in accordance with the objectives of this study. Taking the location in Guwosari Village, Bantul Regency, with the argument that the lurah officials are from the millennial generation and their leadership involves youth as the main target of change. Collecting data using observation, direct and virtual interviews, and documentation techniques. By using a structuration theoretical framework, the results of the study show that the conditions that enable millennial leadership are born because people are thirsty for change and want leaders with new and fresh faces; and the will of the millennial generation to become leaders. This is because in the previous period, Guwosari was led by a lurah with an elderly background as well as a religious figure. The millennial leadership in Guwosari also has an impact on encouraging the process of social transformation. Institutionally, currently the Guwosari Village is still undergoing a process of transformation (becoming). So that the ongoing social transformation is still vulnerable to shifting if it is not institutionalized. In this case, the institutionalization from leader to government is a challenge for millennial leaders.
References
Arikunto, S. (2010). Prosedur Penelitian (Revisi). Rineka Cipta.
Creswell, J. W. (2010). Research Design (Pendekatan Kualitatif, Kuantitatif, dan Mixed). Pustaka Pelajar.
Eko, S. (2013). Daerah Inklusif (A. Rozaki (ed.); Pertama). IRE (Institute for Research and Empowernment).
Eko, S. (2014). Desa Membangun Indonesia (I). Forum Pengembangan Pembaharuan Desa (FPPD).
Eko, S. (2017). Desa Baru Negara Lama.
Giddens, A. (1979). Central Problems in Social Theory: Action, Structure, and Contradiction in Social Analysis. University of California Press.
Giddens, A. (2008). Social Theory Today. Pustaka Pelajar.
Giddens, A. (2010). Teori Strukturasi. Pustaka Pelajar.
Giddens, A. (2011). The Constitution of Society: Teori Strukturasi untuk Analisa Sosial. Pedati.
Haas, H. D. S. F. K. N. K. S. S. V. (2020). Social Transformation (No. 166; 2020).
Herdiansyah, H. (2010). Metodologi Penelitian Kualitatif Untuk Ilmu-Ilmu Sosial. Salemba Humanika.
Jamaluddin, R. (2004). Riset Kehumasan. Grasindo.
Jones, P. (2010). Pengantar Teori-Teori Sosial dari Teori Fungsionalisme Hingga Post Modernisme. Yayasan Pustaka Obor Indonesia.
Khondker, H. H. U. S. (2014). Social Transformation, Development and Globalization. https://doi.org/10.1177/205684601423
Mustomi, D. E. R. (2020). Gaya Kepemimpinan Dalam Perspektif Generasi Milenial. Jurnal Ilmiah MEA (Manajemen, Ekonomi, Dan Akuntansi), 4.
Peramesti, N. P. D. Y. D. K. (2018). Kepemimpinan Ideal Pada Era Generasi Milenial. Jurnal Manajemen Pemerintahan, 10.
Punch, K. F. (2009). The Analysis of Qualitative Data (Introduction to Research Methods in Education) (E-Book). SAGE Publications.
Radarjogja.jawapos.com. (2019). Sosok Sisi Lain Lurah Termuda yang Sempat Diremehkan. 29 Juli 2019. https://radarjogja.jawapos.com
Ritzer, G. G. D. J. (2004). Teori Sosiologi Modern (Keenam). Kencana.
Sugiyono. (2013). Cara Mudah Menyusun: Skripsi, Tesis, dan Disertasi. Alfabeta.
Supardan, D. (2008). Pengantar Ilmu Sosial. Bumi Aksara.
White, B. (2012). Generasi Antara: Refleksi tentang Studi Pemuda Indonesia. Jurnal Studi Pemuda, 1.
Yin, R. K. (2012). Studi Kasus (Desain & Metode). Rajawali Pers.
Yusuf, M. (2017). Metode Penelitian (Kuantitatif, Kualitatif & Penelitian Gabungan). Kencana.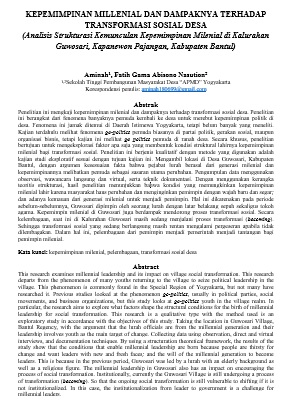 Downloads
How to Cite
Aminah, A., & Abisono Nasution, F. G. . (2022). KEPEMIMPINAN MILLENIAL DAN DAMPAKNYA TERHADAP TRANSFORMASI SOSIAL DESA: (Analisis Strukturasi Kemunculan Kepemimpinan Milenial di Kalurahan Guwosari, Kapanewon Pajangan, Kabupaten Bantul). GOVERNABILITAS (Jurnal Ilmu Pemerintahan Semesta), 3(1), 35–49. https://doi.org/10.47431/governabilitas.v3i1.165
License
Copyright (c) 2022 GOVERNABILITAS (Jurnal Ilmu Pemerintahan Semesta)
This work is licensed under a Creative Commons Attribution-ShareAlike 4.0 International License.