MENGIKIS MENTALITAS PRIYAYI DALAM PEMERINTAHAN
Keywords:
bureaucratic culture, public service, government, governmentality.
Abstract
The priyayi mentality has colored the behavior of the Indonesian government since the New Order era. Since the 1998 political reform, efforts to build government accountability have continued, but the practice of abuse of power has continued to grow. The purpose of this study was to examine the effectiveness of the National Movement for Mental Revolution in eradicating the culture of feudalism in government in Indonesia. The method of writing is done through literature review and case studies of government behavior. The results of this study indicate that: cases of corruption and abuse of power continue to occur and even increase; the culture of public service has not changed because it still places the public as an object, not a subject. The results of the study indicate the need to improve the mentality of public administrators, in addition to the need for a shift in the focus of public services from government to society or the public.
References
Aziz, F. N., & Roziqin, A. (2020). The Perspective of Bureaucratic Reform (Kang Yoto's Leadership) in Bojonegoro. JAKPP (Jurnal Analisis Kebijakan & Pelayanan Publik), 126–142. https://doi.org/10.31947/jakpp.vi.10014
Bishop, Patrick (ed.), 2003, Management Organisation, and Ethics in the Public Sector, Burlington: Ashgate
Boisvert,Yves, Crise de confiance et crise de legitimité: de l'éthique gouvernementale á l'éthique publique, dans: Revue internationale d'éthique sociétale et gouvernementale, vol. 4, no 1, Printemps 2002, 19-31.
Bourdieu, P., 1994: Raisons pratiques. Sur la théorie de l'action. Paris: Seuil
Bowman, James S., 2010: Achieving Competencies in Public Services. The Professional Edge Second Edition, Armonk N.Y.: M.E.Sharpe
Cochran, Charles L., & Malone, Eloise F., 2005: Public Policy: Perspectives and Choices, Colorado: Lynne Rienner
Considine, Mark, 1994: Public Policy: A Critical Approach, South Melbourne: Macmillan
Dwiyanto, Agus dkk.2015. Etika Publik : Modul Pendidikan dan Pelatihan Prajabatan Golongan 3. Jakarta : Lembaga Administrasi Negara Republik Indonesia
David & Rasmussen, Ken, 2008: Professionalism and Public Service, Toronto: University of Toronto Press
Dobel, Patrick J., 1999: Public Integrity, Baltimore: Johns Hopkins University press
Drüke, Helmut, 2007: Can E-Government Make public Governance More Accountable?, dalam: Anwar Shah, Performance Accountability and Combating Corruption, Washington DC: The World Bank, hlm. 59-87
Faedlulloh, D., Yulianto, Y., & Karmilasari, V. (2021). A Structural and Mindset Bureaucratic Reform Agenda for Jokowi's Second Term. BISNIS & BIROKRASI: Jurnal Ilmu Administrasi Dan Organisasi, 27(2). https://doi.org/10.20476/jbb.v27i2.11466
Fleishman, Joel L., 1981: Public Duties: The Moral Obligation of Government Officials, Cambridge, Massachussetts: Harvard University Press.
Foucault, Michel, 1975: Surveiller et punir, Paris: Gallimard
---------------------, 2004: Sécurité, Territoire, Population: Cours au Collège de France, 1977-1978, Paris: Galliard-Seuil
---------------------, 2008: Le Gouvernement de Soi et des Autres, Cours au Collège de France,1982-1983, Paris: Gallimard
Haryatmoko, 2011: Etika Publik: untuk Integritas Pejabat Publik dan Politisi, Jakarta: Gramedia
---------------, 2020: Jalan Baru Kepemimpinan & Pendidikan: Jawaban atas Tantangan Disrupsi-Inovatif, Jakarta: Gramedia Pustaka Utama
Huberts, L. W. J. C. (2018). Integrity: What it is and Why it is Important. Public Integrity, 9922. https://doi.org/10.1080/10999922.2018.1477404
Ichsan, R. N., Surianta, E., & Nasution, L. (2020). Pengaruh Disiplin Kerja Terhadap Kinerja Pegawai Negeri Sipil (Pns) Di Lingkungan Ajudan Jenderal Daerah Militer (Ajendam) - I Bukitbarisan Medan. Jurnal Darma Agung, 28(2), 187. https://doi.org/10.46930/ojsuda.v28i2.625
Johansen, Bob, 2017: The New Leadership Literacies: Thriving in a Future of Extreme disruption and Distributed Everything, Oakland, CA: Berrett: Koehler
Kolthoff, Emile, 2007, Ethics and New Public Management, Den Haag: BJU
OECD, 2003:Guidelines and Overview, Managing Conflict of Interest in the Public Service, Paris: OECD Publishing
OECD, 2002: Public Sector Transparency and Accountability: Making it Happen,Paris: OECD Publishing
OECD, 2005: Fighting Corruption and Promoting Integrity in Public Procurement, Paris: OECD Publishing
OECD, 2007: Integrity in Public Procurement. Good Practice From A to Z, Paris: OECD Publishing
OECD, 2009: OECD Principles for Integrity in Public Procurement,Paris: OECD Publishing
Peeters, B.Guy, 2007, Performance-Based Accountability, dlm: Shah, Anwar, Performance
Accountability and Combating Corruption, Washington DC: The World Bank, hlm.15-32
Pius XI, 1931, Quadragesimo Anno, terjemahan dalam bahasa Indonesia oleh Hardawiryana,
dalam Kumpulan Dokumen Ajaran Sosial Gereja tahun 1891-1991, Dokpen KWI
Rawls, John, 1971, A Theory Justice, The Belknap Press of Harvard University Press.
Ricoeur, Paul, 1990: Soi-meme comme un autre, Paris: Esprit-Seuil.
-----------------, 1991: Lectures 1. Autour du Politique, Paris: Esprit/Seuil
Sukmajadi, B. (2019). Peran Diklat Revolusi Mental Terhadap Peningkatan Profesionalisme ASN Dalam Pelayanan Publik Di Lingkungan Pemerintah Provinsi Dki Jakarta. Monas: Jurnal Inovasi Aparatur, 1(1), 30–38. scholar.archive.org
Sutor, Bernhard, 1991: Politische Ethik, Paderborn: Ferdinand Schöningh.
Thai, Khi V., 2009: International Handbook of Public Procurement, Boca Raton, FL: Taylor and Francis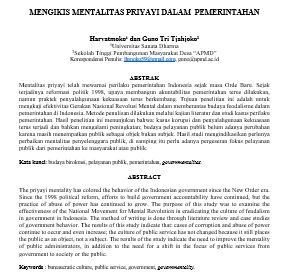 Downloads
How to Cite
Haryatmoko, H., & Tjahjoko, G. T. . (2022). MENGIKIS MENTALITAS PRIYAYI DALAM PEMERINTAHAN. GOVERNABILITAS (Jurnal Ilmu Pemerintahan Semesta), 3(1), 63–76. https://doi.org/10.47431/governabilitas.v3i1.167
License
Copyright (c) 2022 GOVERNABILITAS (Jurnal Ilmu Pemerintahan Semesta)
This work is licensed under a Creative Commons Attribution-ShareAlike 4.0 International License.