DEMOCRATIZATION THROUGH VILLAGE FUND GOVERNANCE (Study of Stakeholder Interaction in Village Fund Management in Golo Lebo Village, Elar District, East Manggarai Regency)
Keywords:
Democratization;, Governance;, Village Fund;, Negotiation;
Abstract
The problem of managing Village Funds is conditional on the interests of the elite fighting over it. But behind the contestation between the elites, the Village is able to form a democratic government. This study examines the construction of the phenomenon of village democratization through Village Fund Management in Golo Lebo Village, East Manggarai Regency. The research method uses a constructivism approach to interpret, give construction and meaning to the phenomenon as a whole. Primary data was collected using observation, interview, discussion and documentation techniques. Secondary data obtained through books, journals, documents, online media and photos. The results of the study show: First, the Village Fund establishes an accountable Village Head. Before the Village Fund, the leadership of the Village Head had the character of a ruler, regressive and conservative. In the era of Village Funds, the Village Head is able to become a father for the people, legitimacy is rooted in the people and is progressive. Second, the Village Fund obliges all elements of the Village to work together to realize the interests of the Village. Cooperation between Village parties is carried out through various formal and informal forums. These forums become an arena for village parties to negotiate. Third, the Village Fund forms the representation function of the Village Consultative Body. The Village Consultative Body is able to become a bridge between the community and the village government, as well as being a partner of the village government.
References
Annisa, Rusyda. (2019). Perencanaan Pembangunan di Desa Sikalang Kota Sawahlunto Tahun 2018. Diploma Thesis, Universitas Andalas.
Ashar, A. & Agustang, A. (2020). Dampak Sosial Dana Desa Dalam Kesejahteraan Masyarakat di Desa Kalola, Kecamatan Maniangpajo, Kabupaten Wajo, Jurnal Sosialisasi. 7 (2), 19–25.
Atmojo, Muhammad E., et. al. (2017). Efektivitas dana desa untuk pengembangan potensi ekonomi berbasis partisipasi masyarakat di Desa Bangunjiwo. Jurnal Sosial Politik Humaniora. Vol. 5. No. 1.
Eko, S. (2004), Reformasi Politik dan Pemberdayaan Masyarakat, Yogyakarta: APMD Press.
Eko, S. (2005), Manifesto Pembaharuan Desa, Yogyakarta: APMD Press.
Eko, S. (2014), Desa Membangun Indonesia, Yogyakarta: FPPD.
Eko, S. (2015), REGULASI BARU, DESA BARU Ide, Misi, dan Semangat UU Desa, Jakarta: Kementerian Desa, Pembangunan Daerah Tertinggal, Dan Transmigrasi Republik Indonesia.
Eko, S. (2021). Merebut Pemerintah Untuk Kedaulatan Rakyat. Governabilitas : Jurnal Ilmu Pemerintahan Semesta. Volume 2 Nomor 2 2021. Hal. 170-196.
Eko, S., et. al. (2017), Desa Baru Negara Lama, Yogyakarta: Pascasarjana STPMD "APMD".
Firman, Restu Rahmawati, M. F. M. (2020). Kebijakan Dana Desa: Evaluasi Pembangunan Dan Pemberdayaan Masyarakat. 5, 181–192.
Gunawan, Imam. (2017), Metode Penelitian Kualitatif; Teori & Praktik, Jakarta: Bumi Aksara.
Haryanto. (2017), Elit, Massa, dan Kekuasaan: Suatu Bahasan Pengantar, Yogyakarta: PolGov.
Irawan, D. (2020). Pergeseran Nilai-Nilai Demokrasi: Sebuah Refleksi Pasca Bergulirnya Dana Desa. Ojs.Ummetro.Ac.Id Satuan Pengaman Universitas Lampung.
Jamaluddin, Yanhar. (2018). Analisis Dampak Pengelolaan dan Penggunaan Dana Desa terhadap Pembangunan Daerah. Journal of Governance and Political Social UMA. 6 (1), 14-24.
Lituhayu, D. (2019), Rawan Korupsi Isu Dalam Implementasi Dana Desa. Jurnal Manajemen dan Kebijakan Publik. Vol 5, Nomor 1, Maret 2019.
Mariana, Dina., et. al. (2017), Desa: Situs Baru Demokrasi Lokal, Yogyakarta: IRE Yogyakarta.
Maschab, Maschuri (2013), Politik Pemerintahan Desa di Indonesia, Yogyakarta: PolGov
Mingkid, Gary J. (2017). Efektivitas Penggunaan Dana Desa Dalam Peningkatan Pembangunan (Suatu Studi Di Desa Watutumou Dua Kecamatan Kalawat Kabupaten Minahasa Utara). Jurnal Jurusan Ilmu Pemerintahan. Volome 2 No. 2.
Pardiyanto, M. A. (2017). Konflik Sosial dan Ekonomi Sebagai Dampak Undang-Undang Nomor 6 Tahun 2014 Tentang Desa. Jurnal Ius Constituendum. Volume, 2, 186-201.
Raco. (2010), Metode Penelltlan Kualltatlf Jenis, Karakteristik, Dan Keunggulannya, Jakarta: PT Gramedia Widiasarana Indonesia.
Samsu. (2017), METODE PENELITIAN: (Teori dan Aplikasi Penelitian Kualitatif, Kuantitatif, Mixed Methods, serta Research & Development), Jambi: Pusat Studi Agama dan Kemasyarakatan (PUSAKA).
Sara, H. (1995), Demokrasi Mengalir, Ende: Percetakan Arnoldus.
Semedi, Pujo. (2019). "Sakpada-pada: Menjaga kesetaraan di pedesaan Jawa 1850 – 2010". Yogyakarta.
Setiawan, A. (2019). Analisis perbedaan tingkat kemiskinan dan ketimpangan perdesaan sebelum dan sesudah digulirkannya dana desa. Journal.Feb.Unmul, 16(1), 31–35.
Tangkumahat, F. V., Panelewen, V. V. J., & Mirah, A. D. P. (2017). Dampak Program Dana Desa Terhadap Peningkatan Pembangunan dan Ekonomi Di Kecamatan Pineleng Kabupaten Minahas. Jurnal Agri-Sosioekonomi, 13(2A), 335.
Winarni, F. dan Pandhu Y. (2016). Implementasi Kebijakan Dana Desa Dalam Meningkatan Pembangunan Di Desa Wukirsari, Kabupaten Sleman. Jurnal Kajian Ilmu Administrasi Negara. Volume 4 Nomor 1.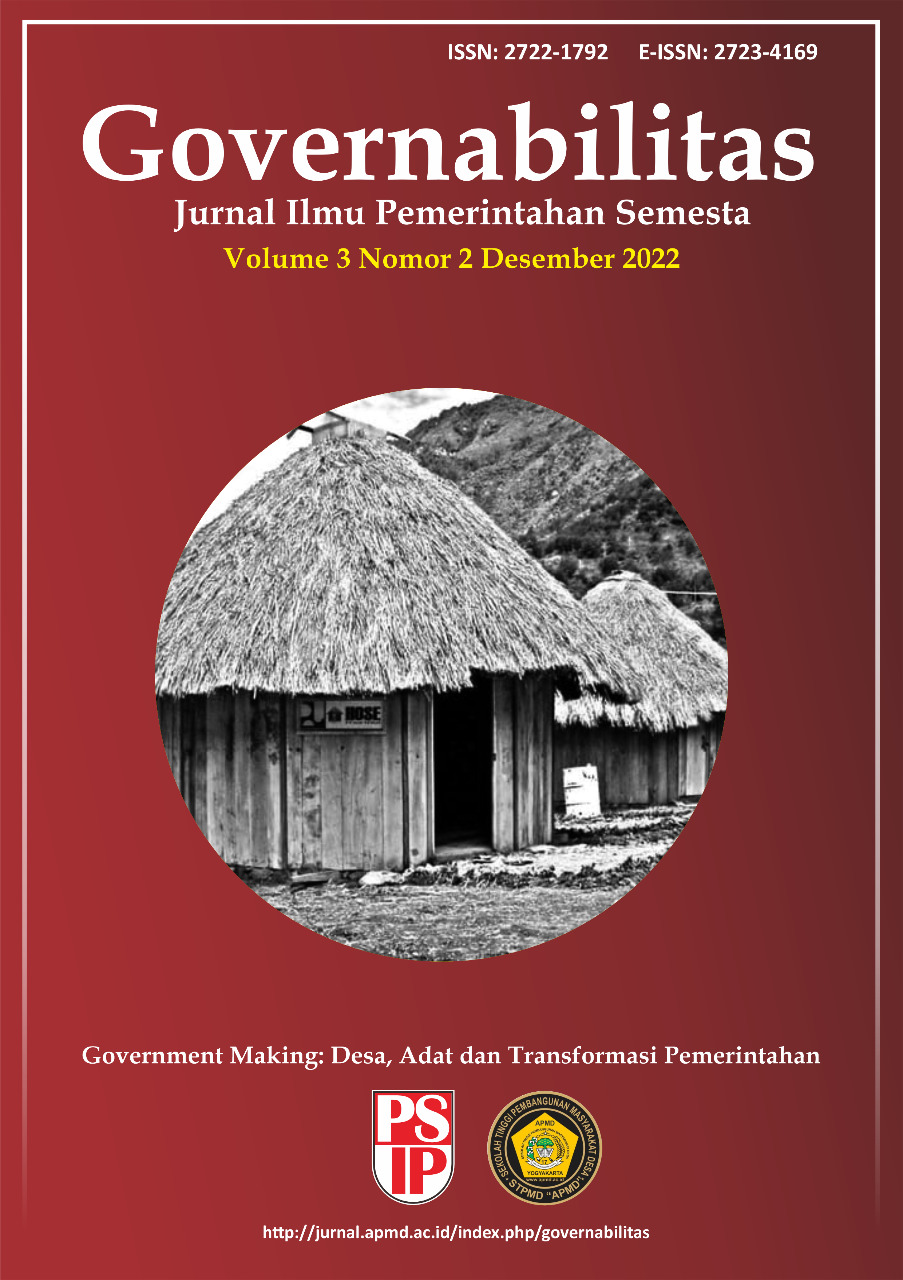 Downloads
License
Copyright (c) 2022 GOVERNABILITAS (Jurnal Ilmu Pemerintahan Semesta)
This work is licensed under a Creative Commons Attribution-ShareAlike 4.0 International License.