TRANSFORMASI PENYELENGGARAAN PEMERINTAHAN DESA
Keywords:
transformation;, administration;, Governance;, village;
Abstract
Village political authority to manage its authority has been eroded by the government through various sectoral ministry policies that are anti-village. The village has lost its authority as the subject of village administration. The central government places village administration as "scientific", through technocratization, namely applying applications that mislead villages. Villages are not managed politically, but technocratically which causes village democracy to not work. The state has even carried out neo-corporatism over villages with the aim that village transformation is more directed towards realizing the interests of the state, not the interests of the community. The transformation has strengthened the involution and formalism of village democracy, also causing village administration to return to the state-led government model or government run by the state, on state instructions, not based on community initiatives. The emergence of various government regulations such as Permendes No. 21 of 2020 concerning Guidelines for Implementing Village Development and Empowering Village Communities, not only makes villages more technocratic, but also kills village democracy, as mandated by Law No. 6 of 2014 concerning Villages.
References
Baccaro, Lucio,2002. The Construction of Democratic Corporatism in Italia. Max Planck Institute for the Study and Sosieties
Bevir, Mark dkk,2003. Traditions and Governance. UC Berkeley
Burgess, R. G.,1982. Field Research: a Sourcebook and Field Manual. London: Unwin Hyman. Kerr, J. (2008)
Djaenuri, Aries, 2014. Sistem Pemerintahan Desa-Sejarah Terbentuknya Desa. Jakarta; Universitas Terbuka
Eko, Sutoro,2019. Desa Membentuk Negara, Negara Memperalat dan Melemahkan Desa-Desa Kuat Negara Berdaulat. IPD Press, Yogyakarta
Eko, Sutoro,2005. Manifesto Pembaharuan Desa. Yogyakarta, STPMD "APMD" Press
Eko, Sutoro, 2022. Menantang SDGs Desa. Yogyakarta, youtube sutoroeko.
Eko, Sutoro,2015. Regulasi Baru Desa Baru. Kementerian Desa, Jakarta.
Fasenfest, David,2010. Government, Governing and Governance" dalam Jurnal Sagepub, 2010 halaman, 771-774.
Firdaus, Mohammad,2021. Negaranisasi Desa. Yogyakarta, youtube gorissahdantv.
Foucault, Michel,1966. The Order of Things: An Archaeology of the Human Sciences. Routledge Classics
Fukuyama, Francis,2013. "What is Governance?" Working Paper 313 Center for Global Development", halaman 1-22
Gerring, John and Strom C. Thacker,2015. A Centripetal Theori of Democratic Governance, Cambridge, 2015, halaman 17
Moleong, Lexy J,2012. Metodologi Penelitian Kualitatif. Bandung : PT Remaja Rosdakarya
Mona, Nailu,2020. Konsep Isolasi Untuk Meminimalisasi Efek Contagious (Kasus Penyebaran Virus Corona di Indonesia. Jurnal Sosial Humaniora Terapan Volume 2 No.2, Januari-Juni 2020, halaman 117-118
Mudhoff, A. Mughis, 2011. Governmentality dan Pemberdayaan dalam Advokasi Lingkungan: Kasus Lumpur Lapindo" Jurnal Sosiologi UI, Vol. 16, No. 1, Januari 2011: 49-75
Muhtar,2019. Pengembangan Ekonomi Desa Melalui Badan Usaha Milik Desa. Desa Kuat Negara Berdaulat. IPD Press, Yogyakarta
Neuman, W. L. ,2003. Social Research Methods, Qualitative and Quantitative Approaches. Fifth Edition. Boston: Pearson Education
Nurdiani, Nina,2014. Teknik Sampling Snowball Dalam Penelitian Lapangan", Comteh Binus University, Vol.5 Nomor 2 Desember 2014
Pahlevi, Oktav,2022. Negaranisasi Desa. Yogyakarta, Youtube GorissahdanTV
Patton, M.,1990. Qualitative Evaluation and Research Methods. California: Sage Publications
Russell, Betrand,2002. Sejarah Filsafat Barat dan Kaitanya dengan Kondisi Sosio-Politik dari Zaman Kuno Hingga Sekarang, Pustaka Pelajar, 2002, hal 146-193
Sahdan, Gregorius,2004. Transisi Demokrasi Indonesia Pasca Soeharto. Yogyakarta : Pondok Edukasi
Sahdan, Gregorius (Editor),2005. Transformasi Ekonomi Politik Desa. Yogyakarta, STPMD "APMD" Press
Sahdan, Gregorius, Firdaus Mohammad dan Minardi,2022. Korporatisme Negara Dalam Perencanaan Pembangunan Desa. APMD, Yogyakarta
Sahdan, Gregorius,2022. Tradisi Konstitusionalisme Dalam Penyelenggaraan Pemerintahan Desa. Makalah Seminar The Indonesian Power for Democracy (IPD): "Mengembangkan Tradisi Konstitusionalisme Dalam Penyelenggaraan Pemerintahan Desa", IPD, Yogyakarta
Sahdan, Gregorius,2019. Perubahan Paradigma Pembangunan: Involusi dan Distorsi Demokrasi Dalam Pembangunan Desa-Desa Kuat Negara Berdaulat. IPD Press, Yogyakarta
Susmayanti, Riana,2012. Hukum Pemerintahan Daerah: Sistem Pemerintahan Desa. Malang: Universitas Brawijaya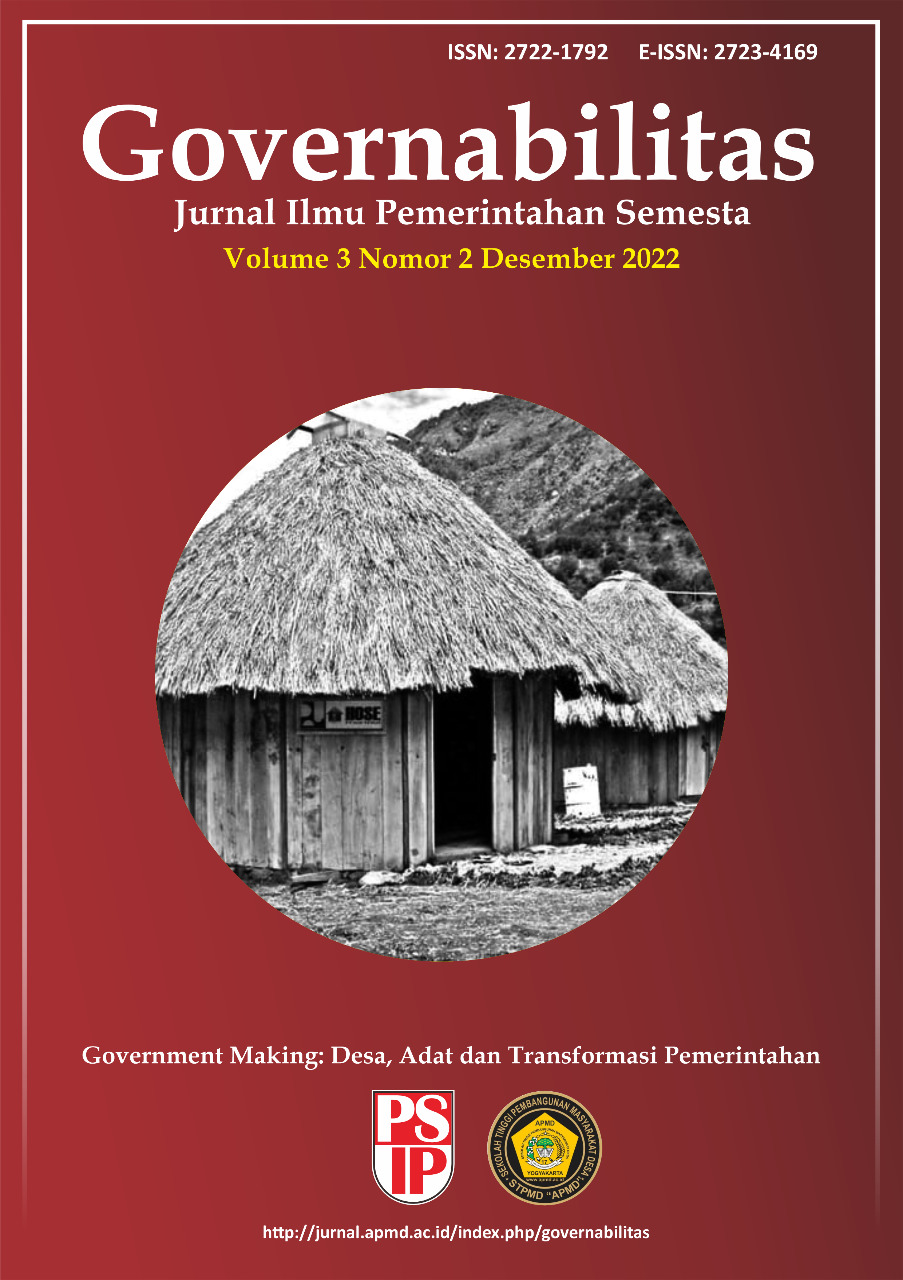 Downloads
License
Copyright (c) 2022 GOVERNABILITAS (Jurnal Ilmu Pemerintahan Semesta)
This work is licensed under a Creative Commons Attribution-ShareAlike 4.0 International License.