MANIFESTASI GEGAR BUDAYA TOKOH UTAMA FILM "MANTAN MANTEN" DALAM TINJAUAN ANALISIS WACANA KRITIS
Keywords:
Gegar Budaya, Tokoh Utama, Analisis Wacana Kritis, Mise-en-Scène
Abstract
Film "Mantan Manten" merupakan film drama romansa dan rilis pada bulan April 2019. Film ini menjadi menarik karena pengemasannya sebagai film romansa, baik dari poster hingga trailer, namun secara bersamaan memiliki fokus kuat dalam segi kebudayaan. Dan dalam ceritanya, tokoh utama dari film "Mantan Manten" mengalami perubahan drastis dan mengalami gegar budaya. Penelitian ini ingin melihat bagaimana wacana gegar budaya dapat divisualisasikan dalam adegan film serta tujuan adanya wacana gegar budaya dalam sebuah film arus utama dengan genre drama romansa. Penelitian ini merupakan penelitian kualitatif dengan metode analisis wacana kritis. Kemudian melihat aspek mise-en-scène  berupa setting, tata busana dan tata rias, dan akting untuk melihat bagaimana wacana gegar budaya ditunjukkan secara visual. Hasil analisis kemudian akan dikritisi dengan melihat fungsi dan tujuan wacana gegar budaya pada film drama romansa film "Mantan Manten". Hasil penelitian menunjukkan terdapat 21 scene yang memiliki unsur gegar budaya didalamnya; 7 scene melalui praktik diskursif, 13 scene dengan praktik diskursif, dan 4 materialisasi wacana. Wacana gegar budaya dalam film "Mantan Manten" lebih banyak dimanifestasikan secara visual melalui akting tokoh, dengan setting dan tata rias dan busana sebagai penguat. Wacana gegar budaya dalam film memiliki fungsi sebagai penggerak narasi dengan tujuan memperlihatkan budaya jawa dukun manten secara lebih dekat dan personal melalui proses tokoh utama dalam menjadi dukun manten. Gegar budaya dalam film ini digunakan sebagai konflik sekunder dalam batin tokoh utama yang hadir dari konflik utama antara Iskandar dan Yasnina, dan sebagai wadah agar film "Mantan Manten" dapat mengisi pengetahuan mengenai budaya jawa ke khalayak umum.
References
Anugrah, D. (2016). Analisis Semiotika Terhadap Prosesi Pernikahan Adat Jawa "Temu Manten" Di Samarinda. eJournal lmu Komunikasi, Volume 4, Nomor 1, 319-330.
Bochner, S. (2003). Culture Shock Due to Contact with Unfamiliar Cultures. Online Readings in Psychology and Culture,.
Bordwell, D., Thompson, K., & Smith, J. (2019). Film Art: An Introduction, Twelfth Edition. New York: McGraw-Hill Education.
Eriyanto. (2013). Analisis Naratif: Dasar-dasar dan Penerapannya dalam Analisis Teks Berita Media . Jakarta: Kencana.
Gibbs, J. (2002). Mise-en-scène: FIlm Style and interpretation. New York: Columbia University Press.
Gredin, K. (2020, December). Modern Aspects of the Labyrinth in Literature. Maribor: Univerza v Mariboru.
Hartley, J. (2002). Communication, Cultural and Media Studies: The Key Concepts. London: Routledge.
Haryatmoko. (2016). Critical Discourse Analysis (Analisis Wacana Kritis): Landasan Teori, Metodologi, dan Penerapan. Jakarta: Rajawali Pers.
Indrati, S. (2017). Philosophical Values and Local Wisdom in Java Panggih Traditional Ceremony Language. Parole: Journal of Linguistics and Education, 7 (2), 88-93.
Jäger, S. (2001). Discourse and Knowledge: theoretical and methodological aspects of a critical discourse and dispositive analysis. In R. Wodak, & M. Meyer, Methods of Critical Discourse Analysis (pp. 32-62). London: SAGE Publications.
Maier, F., & Jäger, S. (2016). Analysing Discourses and Dispositives: A Foucauldian Approach to Theory and Methodology. In R. Wodak, & M. Meyer, Methods of Critical Discourse Studies (pp. 109-136). Sage.
Privateer, P. (1983). Contemporary Literary Theory: A Thread Through the Labyrinth. Pacific Coast Philology, 92-99.
Sugiyono. (2015). Metode Penelitian Pendidikan (Pendekatan Kuantitatif, Kualitatif, dan R&D). Bandung: Alfabeta.
The Psychology of the Maze as a Modern Symbol. (2014, August 03). Retrieved December 06, 2021, from https://culturedecanted.com/2014/07/31/the-psychology-of-the-maze-as-a-modern-symbol/
Trismaya, N. (2018). Kebaya dan Perempuan: Sebuah Narasi Tentang Identitas. JSRW (Jurnal Senirupa Warna), 151-159.
Turner, G. (1999). Film as Social Practice. London and New York: Routledge.
Wahyuningtyas, B. P. (2017). Selera Budaya Priyayi Jawa dalam Konteks Komunikasi Budaya Tradisional (Studi pada Budaya Rias Pengantin Jawa di kalangan Priyayi). Prosiding Konferensi Nasional Komunikasi, Vol. 01, No. 01, 202-208.
Ward, C., Bochner, S., & Furnham, A. (2001). The Psychology of Culture Shock. East Sussex: Routledge.
Windyarti, R. (2015). Makna Simbolik Serah-Serahan Dalam Upacara Perkawinan Adat Jawa Di Desa Tanjung Belit Kecamatan Siak Kecil Kabupaten Bengkalis Provinsi Riau. Jurusan Ilmu Komunikasi – Konsentrasi Hubungan Masyarakat Fakultas Ilmu Sosial Dan Politik Universitas Riau, 1-15.
Winkelman, M. (1994). Cultural Shock and Adaptation. Journal of Counseling & Development, 121-126.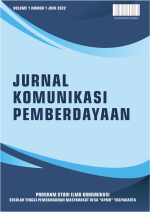 Downloads
How to Cite
Rinugroho, D. (2022). MANIFESTASI GEGAR BUDAYA TOKOH UTAMA FILM "MANTAN MANTEN" DALAM TINJAUAN ANALISIS WACANA KRITIS. Jurnal Komunikasi Pemberdayaan, 1(1), 10–29. Retrieved from https://jurnal.apmd.ac.id/index.php/JKP/article/view/160
License
Copyright (c) 2022 Jurnal Komunikasi Pemberdayaan
This work is licensed under a Creative Commons Attribution-ShareAlike 4.0 International License.